Vascular Surgery
Introduction
The London Specialty School of Surgery is responsible for the quality and commissioning of training in the surgical specialities, including Vascular Surgery, has more than 1500 trainees, and offers programmes at prestigious teaching centres across the capital. All emergency medicine trainees rotate through one of London's Major Trauma Centres and spend time in a varied series of other District General Hospitals and teaching hospital placements.
Head of School
Miss Celia Theodoreli-Riga is the Head of School of Surgery. She is a consultant vascular surgeon and Senior Lecturer at Imperial College Healthcare NHS Trust. She previously served as the STC Chair and TPD for vascular surgery. She is a keen advocate for education and surgical trainees. She remains committed to applying principles of safety and quality towards the development of high-performing teams.
Deputy Head of School
Mr Dominic Nielsen is the Deputy Head of the London Postgraduate School of Surgery. Mr Nielsen is a consultant orthopaedic surgeon at St George's Hospital in London. His clinical interests are foot and ankle surgery and complex lower limb trauma. He is a keen advocate of surgical education and was previously the Training Programme Director for Higher Orthopaedics in South London.
Training Programme Directors
Mr Paul Moxey is the Training Programme Director for Vascular Surgery. Mr Moxey is a consultant vascular surgeon at St George's Hospital.
Specailty Overview
Vascular surgery is evidence based and technology driven; it is constantly evolving as an important specialty in its own right. The London Vascular Training Programme is the largest in the country with 42 trainees. It has a reputation of producing CCT-accredited vascular surgeons of the highest quality and entry is therefore highly competitive. The Programme encompasses every aspect of the curriculum and delivers training on open and endovascular surgery with specific placements tailored to individual trainee needs. The specialty places great emphasis on unit outcomes and safety as per national standards and Getting It Right First Time (GIRFT) recommendations. It is one of the first specialties in the UK to adopt the Consultant and Team of the Week model to ensure continuity of care and support the multiprofessional team. In practice, the largest collaboration for Vascular Surgery as a speciality is with Interventional Radiology, promoting a co-operative and integrated approach with inclusive decision-making for optimal patient outcomes. All London units offer endovascular training opportunities and are committed to deliver the new curriculum guided by the GMC recommendations and local service structure.
The new curriculum recognises the need for outcome-based rather than time-based training. Trainees will be expected to complete vascular training in an indicative time of 8 years for those entering run-through training at ST1 and 6 years for uncoupled trainees entering at ST3. There will be options for those trainees who demonstrate exceptionally rapid development and acquisition of capabilities to accelerate training completion. The Programme offers LTFT training opportunities and supports two IST sites. The ST3 year of the Vascular Surgery programme is spent training in emergency general surgery with rotations at the following centres: Northwick Park Hospital at London North West University Healthcare NHS Trust, Kingston Hospital NHS Foundation Trust, Queen Elizabeth Hospital in Woolwich and Queen's Hospital in Romford.
Training programme
The specific Vascular training sites serving a population of 9 million and also supporting the 4 Major Trauma Centres, are:
Contact: Miss Celia Riga, Mr Richard Gibbs, Mr Colin Bicknell, Professor Alun Davies
Contact: Professor Bijan Modarai, Mr Morad Sallam
Contact: Mr Jason Constantinou, Professor Janice Tsui, Miss Fiona Myint
Contact: Mr Paul Moxey, Professor Peter Holt
Contact: Mr Nigel Tai, Mr Paritosh Sharma
Contact: Miss Nung Rudarakanchana
Trainees rotate throughout these from ST4 through ST8, having spent the ST3 year in general and emergency surgery placements.  Many of the London Vascular Units serve as national referral centres for patients with complex aortic, carotid and venous disease with high-profile international reputation in leading multi-centre clinical trials, basic science and healthcare technology research and evidence-based outcomes. The Programme supports a large cohort of clinical academic trainees through the ACF and Clinical Lectureship integrated training pathways. Additional career development opportunities are offered to trainees to include formal research support and supervision towards the award of MD/PhD, part-time MSc in Surgery, Surgical Education and Health Policy.
London Vascular trainees have access unique opportunities for Simulation and Team Training, especially commissioned to deliver world-class education and skills development. The Local Education programme received a JCST Platinum award in the 2020 round. Training and courses currently offered cover a wide spectrum and are relevant to all stages of vascular surgery training including open aortic repair, endovascular arterial intervention, EVAR planning, radiation protection, peri-operative care, the full spectrum of endovenous technologies and techniques, ultrasound training, and approaches to major vascular trauma. The Programme through the School of Surgery and in collaboration with the National HEE Technology Enhanced Learning (TEL) Team is committed to expand these unique educational opportunities as part of Covid-recovery and reset.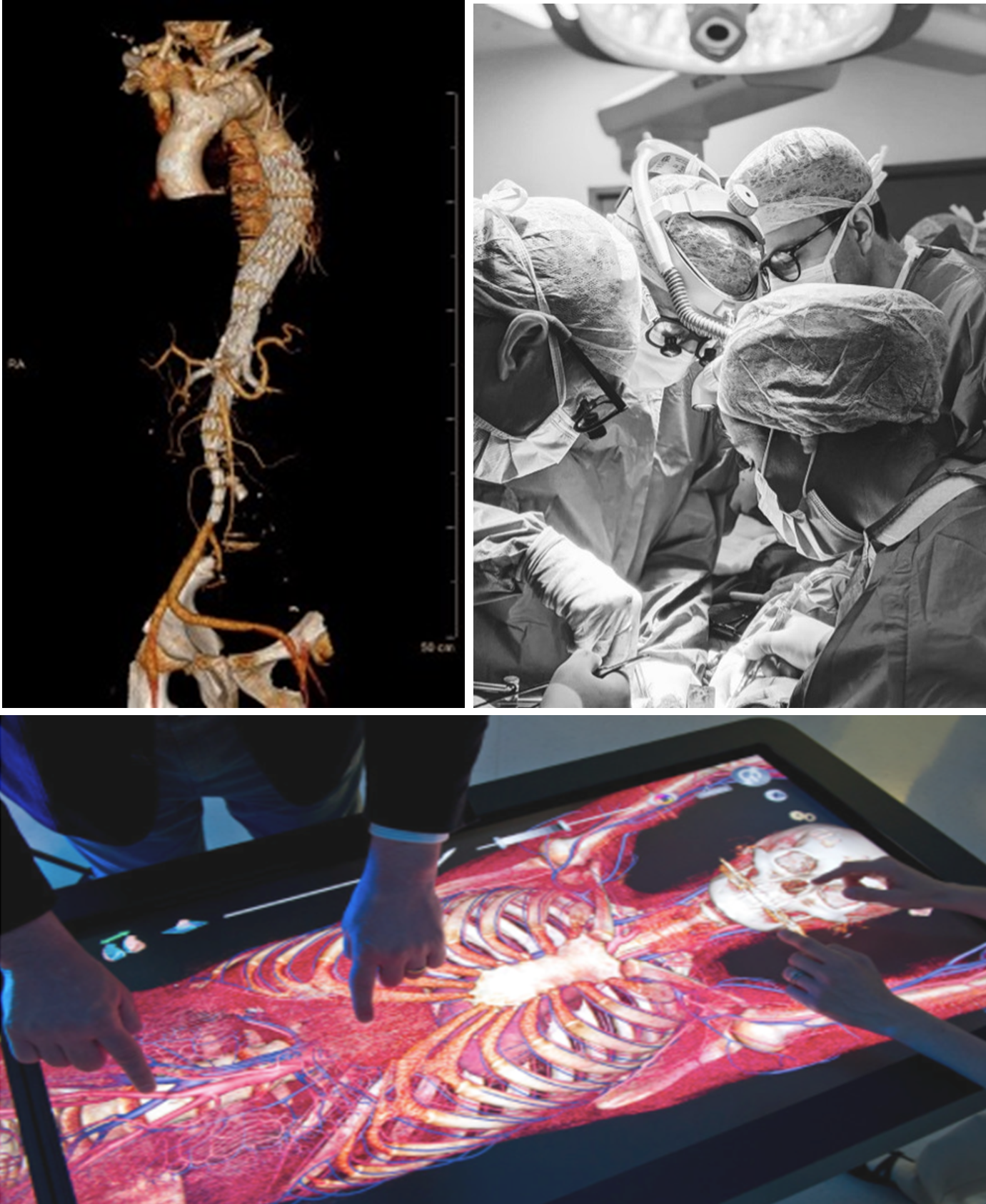 Specialty Training Board Information
The London Specialty School of Surgery holds Specialty Training Board meetings three times per year. The purpose of this group is to bring together specialty leads from postgraduate medical training programmes across the three London local education and training board areas to consider issues of mutual interest in relation to surgical training, and to foster and share good training practice on a pan London basis.
Vision
The vision for the London School of Surgery is to provide the highest quality of training using the vast wealth of clinical resources across London. London has a population of almost eight million. With its rich variety of cultures, nationalities and social backgrounds, the capital offers any trainee a full and rewarding experience in emergency medicine.
The London School of Surgery also seeks to provide:
World class education for world-class healthcare

Excellence of postgraduate training and education

Producing clinical leaders of tomorrow
Useful Information and Links
Curriculum - https://www.gmc-uk.org/education/standards-guidance-and-curricula/curricula/vascular-surgery-curriculum
ePortfolio - https://www.iscp.ac.uk/
Exams - https://www.jcie.org.uk/content/content.aspx?ID=1
JCST Guidelines and Checklists - https://www.jcst.org/quality-assurance/certification-guidelines-and-checklists/