Supported Return to Training (SuppoRT) Courses and Events Information
The SuppoRTT Courses and Events page lists upcoming SuppoRTT courses and events in London. Designed to inform Return to Practice trainees and Educators of the options available in supporting a safe and confident return for trainees.
Below are details of the current upcoming courses and events. For further information and how to register select an event below.
For information regarding Kent, Surrey and Sussex (KSS) Supported Return to Training Courses and Events click here to access the KSS website. The Professional Support Unit also offers professional courses and conferences more information can be found here.
V-SPACE for SuppoRTT Trainees
"It was a great opportunity to express my current stresses within a group and find doctor-focused responses from the course leaders and members alike."
"It was incredibly useful to be able to discuss matters in a safe environment and feel like there are other doctors who share similar feelings and difficulties regarding transitions and change as I do. "
"I particularly enjoyed the week focusing on leadership styles. I used this to my advantage during an interview and got the job."
-Feedback from previous V-Space participants
The V-Space Coaching and Support Programme is a series of four group coaching and peer support sessions for doctors returning to training after taking time out. The small groups run for 2.5 hours every fortnight and are led by a senior group coach from the Professional Support Unit's Coaching Service. Conducted entirely online and in a confidential setting, V-Space aims to create a supportive, confidential and structured learning environment for peer discussion. Each session draws on a range of practical coaching tools for self-reflection, goal-setting, enhanced confidence, stress management and leadership communication. 
Sessions combine experiential learning via pair and group activities with insights from guest speakers plus coaching tools and support resources. The overall aim is to assist doctors to return to training with a clear sense of their needs and objectives, as well as the support and resources to achieve these with full confidence and commitment.   
V-space features include:
Guest speaker slots 'in conversation with' trainees who have experienced typical challenges related to returning to training. They will share what they learned and the strategies and approaches they found useful.
Small, closed group working together every fortnight over a series of four sessions.
WhatsApp group for connecting with peers in between sessions.
Tools & resources circulated after each session to support your learning and group engagement. 
A set of annotated slides following each session to support your learning and group engagement.    
Eligibility:
Doctors in London and the South East from any specialty, at any stage of training, and who have taken time out of training for reasons of parental leave, medical leave, academic/research purposes or a career break are welcome to apply. We also ask that participants are within a few months of taking time out or due to return to training within a few months of the group start date (see options below).  
Spaces are limited to 14 participants per group so please book early to avoid disappointment.
Programme dates – please select one of the following five programmes:
Programme One         Tuesdays 6pm to 8.30pm every fortnight for 4 sessions on:
                                   7th June, 21st June, 5th July, 19th July 2022
Programme Two         Thursdays 6pm to 8.30pm every fortnight for 4 sessions on:
                                   16th June, 30th June, 14th July, 28th July 2022
Programme Three       Tuesdays 10.30am to 1pm every fortnight for 4 sessions on:
                                    6th September, 20th September, 4th October, 18th October 2022
Programme Four        Thursdays 6pm to 8.30pm every fortnight for 4 sessions on:
                                   22nd September, 6th October, 20th October, 3rd November 2022
Programme Five         Thursdays 6pm to 8.30pm every fortnight for 4 sessions on:
                                   1st December, 15th December, 29th December 2022, 12th January 2023
Register here for a V-Space virtual coaching and support programme place
If you have questions about registering for V-SPACE and what to expect please email: careerscoachingevents@hee.nhs.uk
SuppoRTT London Region will be holding a virtual conference on Thursday 13th October 2022 from 10 am - 3 pm
Please use the registration link below to register to attend the conference.
https://lasepgmdeevents.hee.nhs.uk/events/specialty-conferences/a9af1a27-007c-4f5f-a74e-4dc36c043f72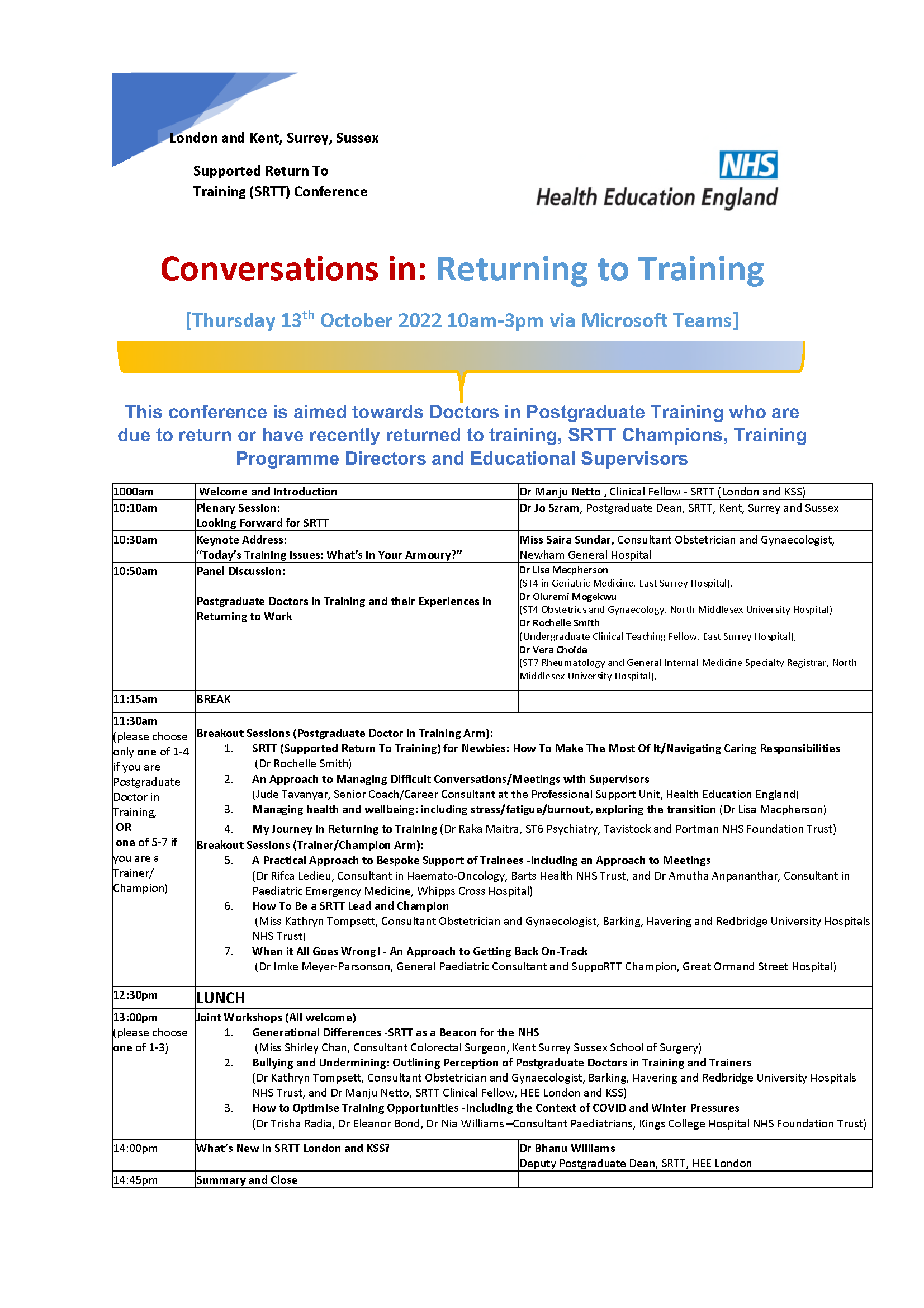 Thrive after maternity leave –plan a confident return to work. For GP trainees in London and KSS.
For more information and to book click here.
This five-week coaching programme takes you through everything you need to think about to plan a confident return to work: from how to manage your emotions, maintain your confidence, juggle work and family life, maintain your sense of self and create your return to work plan.
Please select link to access the poster to find out more.
http://healtheducationengland.sharepoint.com/sites/HET-Training-London/SRTT/Forms/AllItems.aspx?id=%2Fsites%2FHET%2DTraining%2DLondon%2FSRTT%2FFlyers%20%26%20Posters%2FMarch%202022%20%20Supporting%20GPs%20Through%20Maternity%20Programme%20Poster%2Epdf&parent=%2Fsites%2FHET%2DTraining%2DLondon%2FSRTT%2FFlyers%20%26%20Posters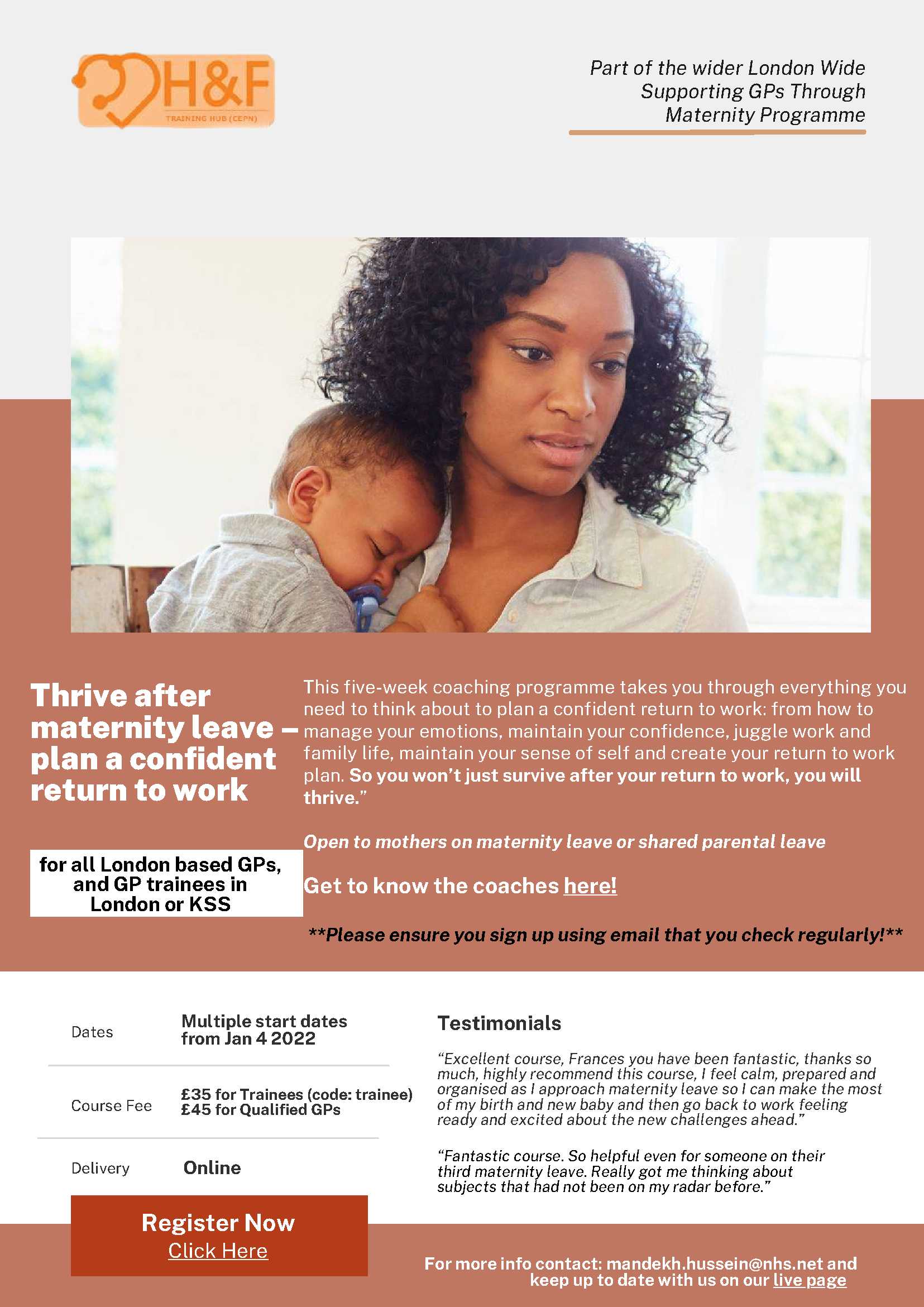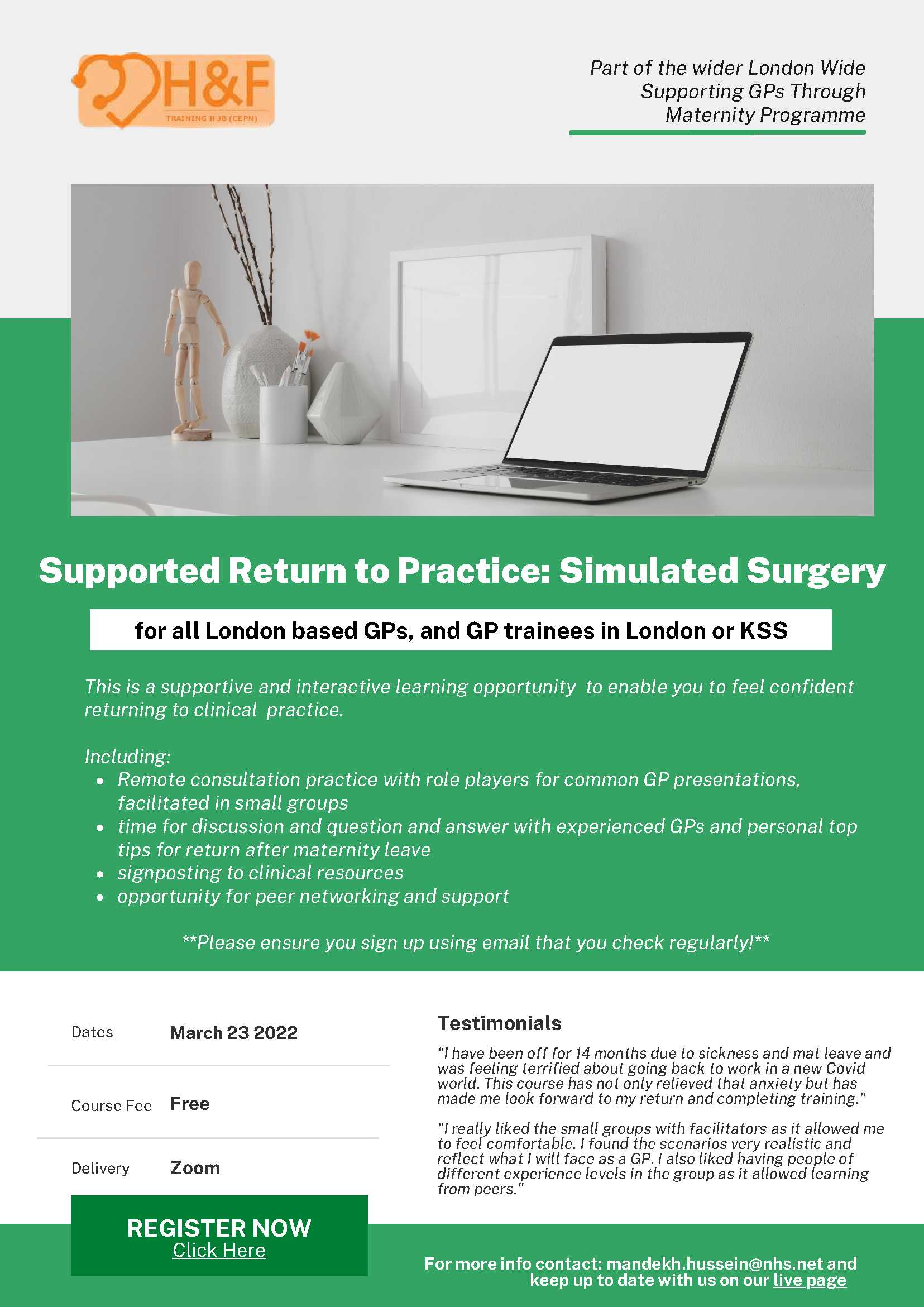 Kent, Surrey and Sussex School of Anaesthesia are holding a Return to Training Course - "RTT-SIM" on 23 September 2022. Please see below for more details. For booking please contact   Dr Nicola Somerville                Nicola.somerville@nhs.net
Kent Surrey and Sussex School of Anaesthesia
Return to Training Course – 'RTT-SIM'
For those returning to Anaesthetic training following time away for reasons such as parental leave, a period of ill health, time away for research.
This course features workshops and simulation-based sessions to include common clinical scenarios, pre-op assessment and signposting for updated guidelines.
Clinical Reminders
Confidence boosters
Informal mentoring
Opportunities for PEER discussion and support
Maximum 8 delegates   - High delegate to faculty ratio
Date:                  Friday 23rd September, 08:30-17:30
Venue:                Simulation Centre, Royal Surrey County Hospital, Egerton Road, Guildford, GU2 7XX
Cost:                   £200 for non KSS/London trainees (should be refundable from your own SuppoRTT budget) No cost for KSS/London Anaesthetic Trainees.
Contact:             Dr Nicola Somerville                Nicola.somerville@nhs.net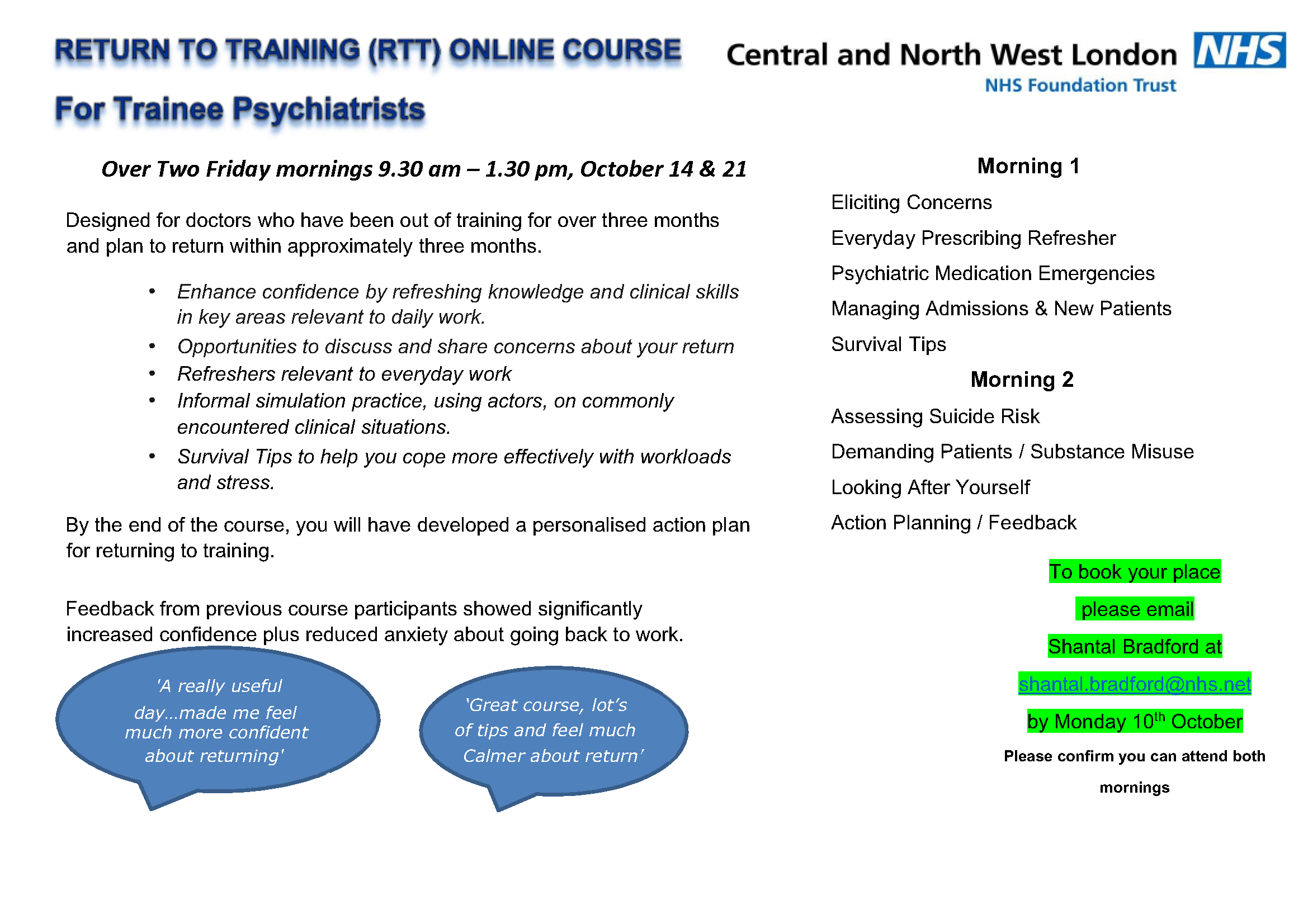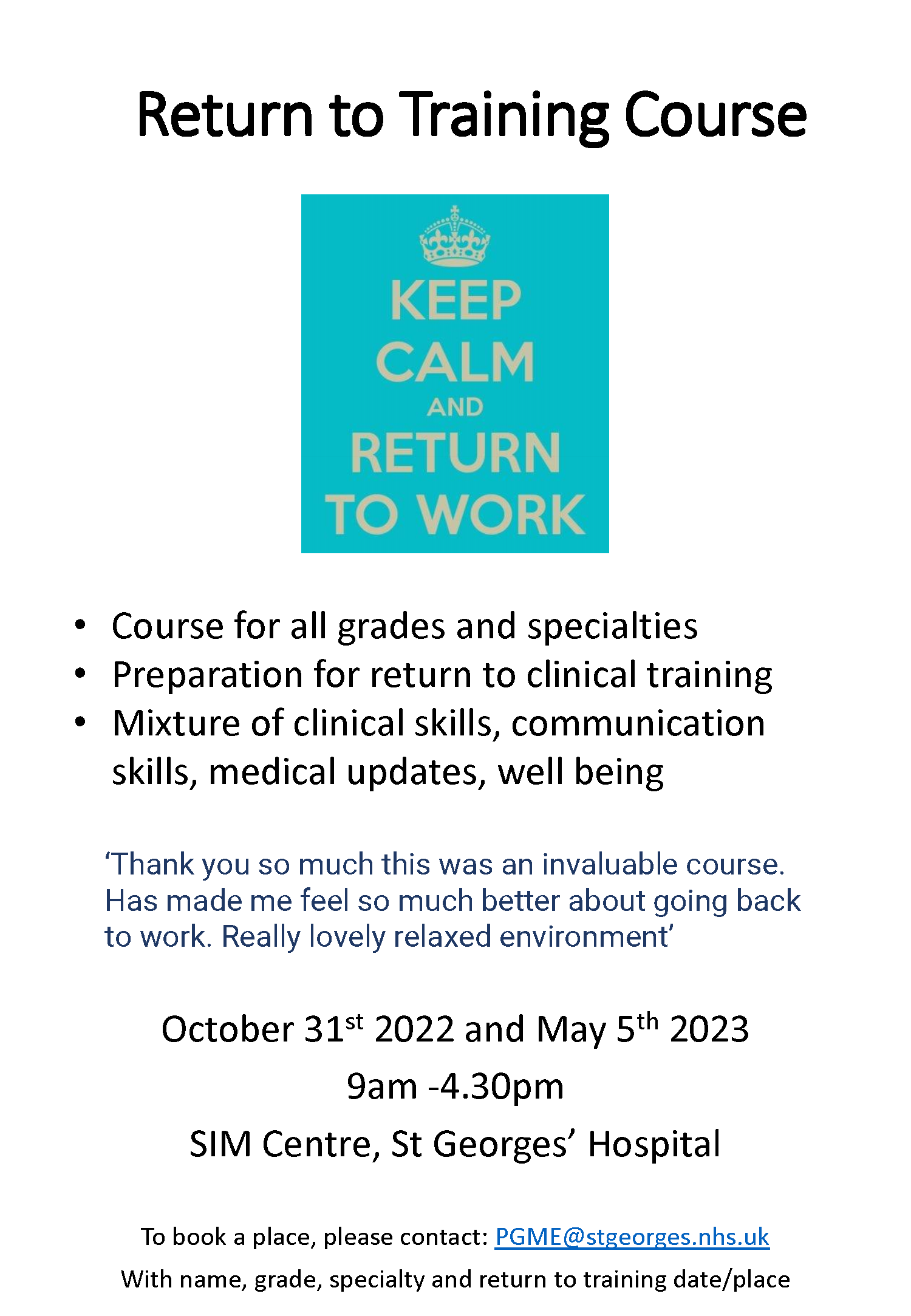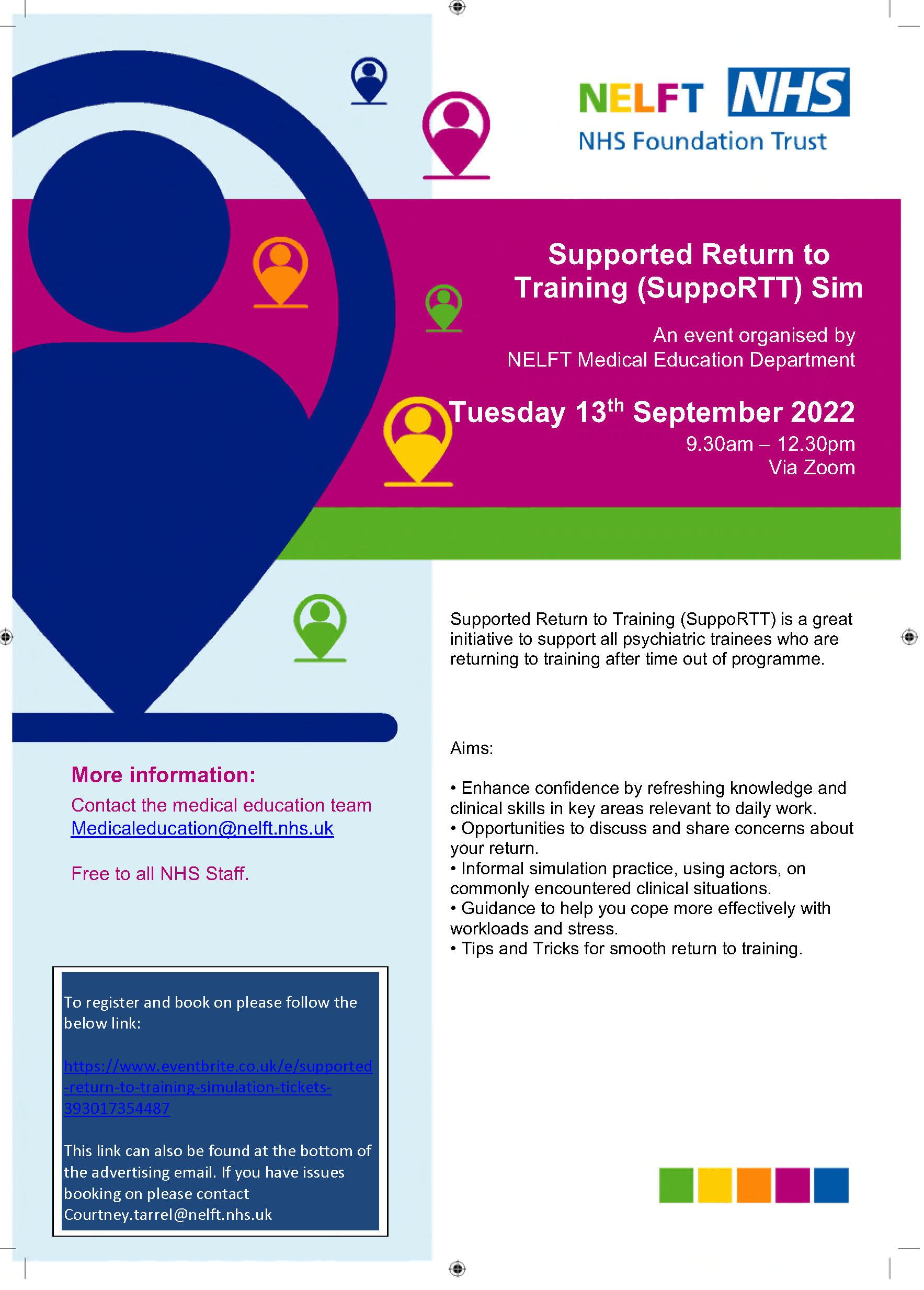 NELFT Medical Education dept. would like to invite you to book onto this half day simulation-based workshop compromising of 4 modules where you will participate in simulated scenarios.
Supported Return to Training (SuppoRTT) is a great initiative to support all trainees who are returning to training after time out of programme. This might include time off training to pursue other academic interests, maternity or parental leave and sick leave. We will be delivering a SuppoRTT workshop, over the course of a morning, to promote an easier return to work through a refresher of key clinical and non-clinical skills.
Aims:
• Enhance confidence by refreshing knowledge and clinical skills in key areas relevant to daily work.
• Opportunities to discuss and share concerns about your return.
• Informal simulation practice, using actors, on commonly encountered clinical situations.
• Guidance to help you cope more effectively with workloads and stress.
• Tips and Tricks for smooth return back to training
You can book your place on this training with the following link:
https://www.eventbrite.co.uk/e/supported-return-to-training-simulation-tickets-393017354487