Cardiothoracic
Introduction
Training in Cardiothoracic Surgery in London in the following teaching hospitals in London and The Royal Sussex County Hospital in Brighton. The program allows for a comprehensive training experience over a very wide range of surgical and academic options. It is also responsible for the existing nationally approved paediatric training between GOS and Birmingham. The London Programme has an established excellence for training amongst junior doctors, as was shown by highest rank trainees choosing the program appointments every year choosing London as their first choice. The London Programme provides a comprehensive range of operations in adult cardiac, paediatric cardiac and thoracic surgery. In addition, to routine procedures, the programme provides specialist training in off-pump CABG, mitral valve repair, surgery for aortic root (including valve preserving procedure), arch surgery and de-branching techniques, TAVI, EVAR, ECMO, transplantation, mini-bypass, mini aortic valve replacement, VATS lung resection and surgery for mesothelioma.
In the London program, specialist training in imaging, including echocardiography, by spending time in the echo lab, also obtaining endovascular and cardiological techniques by spending time in the catheter lab, and CT intensive care training are also provided. These training opportunities have been discussed with the cardiologists, vascular interventionalists and radiologists and the placements are confirmed. We have an established simulation training program.
The ST1 run-through training program is also popular in London, training blocks include general surgery, orthopaedics, plastics, intensive care and 6-12 months of cardiothoracic surgery. The assessment of ST1-ST2 trainees is performed by Core Surgery and will be in conjunction with Cardiothoracic Surgery to streamline training.
Head of School
Ms Celia Theodoreli-Riga is the Head of School of Surgery.
Deputy Head of School
Mr Dominic Nielsen is the Deputy Head of the London Postgraduate School of Surgery. Mr Nielsen is a consultant orthopaedic surgeon at St George's Hospital in London. His clinical interests are foot and ankle surgery and complex lower limb trauma. He is a keen advocate of surgical education and was previously the Training Programme Director for Higher Orthopaedics in South London.
Training Programme Directors 
North West London
Professor Prakash P Punjabi -  NHLI, Imperial College London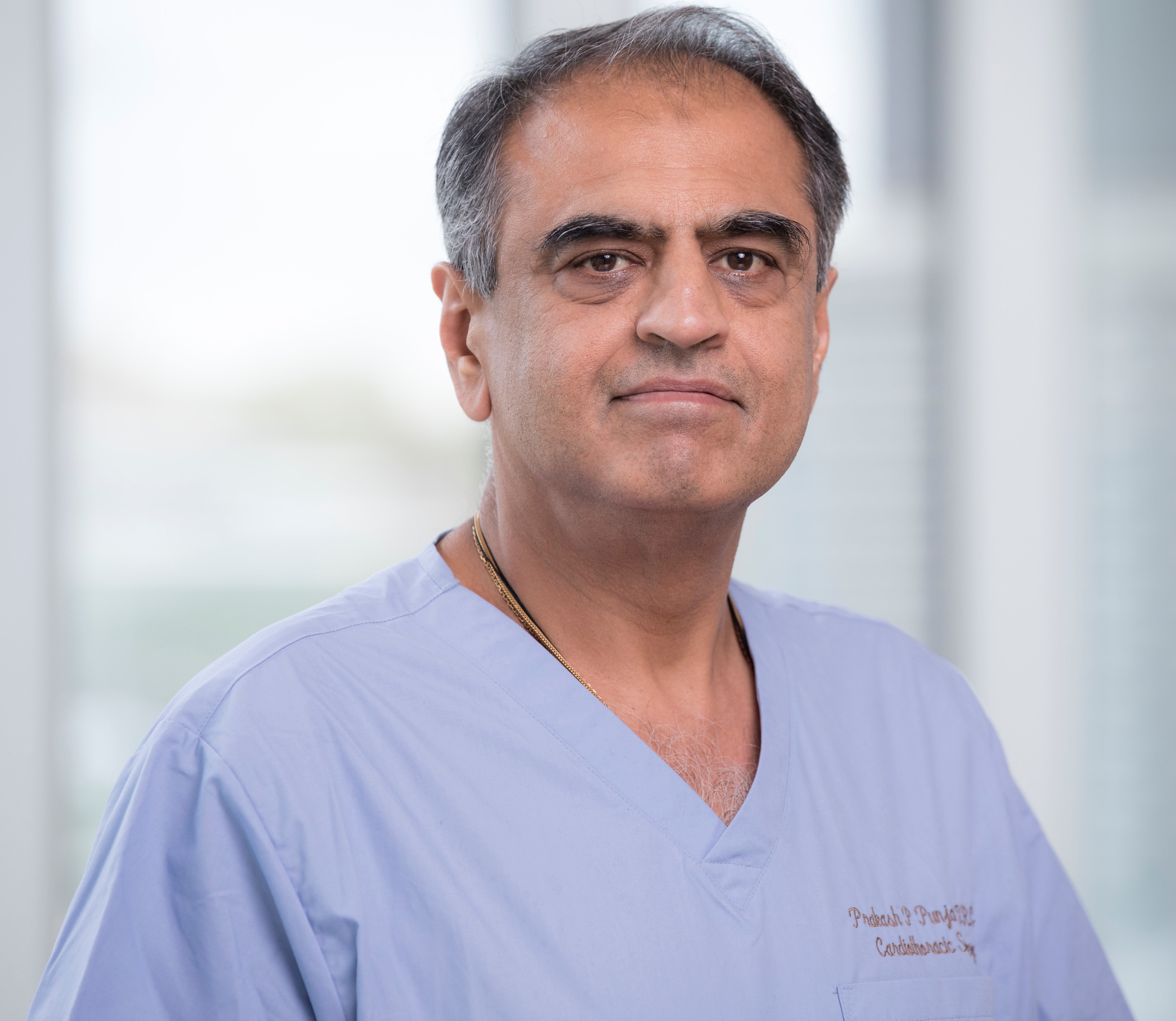 Deputy TPD: ST1/2 – Mr Neil Roberts - Barts
Deputy TPD: Thoracic – Mr Ian Hunt – St George's
Lead Cardiac Teaching – Mr Ish Ahmed – RSCH, Brighton
Lead Thoracic Teaching – Prof Eric Lim – RBH
Lead – Mentoring and Career Advice – Mr Shahzad Raja – Harefield
National Cardiac Tutor - Mr George Asimakopoulous – RBH
National SAC Chair – Prof Marjan Jahangiri – St George's
Training programme
Barts Heart Centre - London
Guy's Hospital – London
Hammersmith Hospital – London
Harefield Hospital - London                                                               
King's College Hospital, London
Royal Brompton Hospital – London
Royal Sussex County Hospital (RSCH), Brighton                            
St. George's Hospital, London                                                          
St. Thomas' Hospital, London
Teaching Programme
A curriculum-based education programme is now established, where NTNs receive dedicated consultant led teaching using lectures, interactive sessions, wetlabs and simulators. A senior thoracic training programme for dedicated ST7/8 trainees who have passed the exit FRCS exam and are looking for specialist thoracic training prior to CCT. This will rotate through all the recognized thoracic centres in London.
Dedicated Training Days.
The programme has dedicated teaching days every two months, including two Cardiothoracic RSM meetings per year. The attendance at these meetings is mandatory.
Academic Opportunities.
There are several academic and research opportunities in the London Programme. Trainees who do not wish to take part in a formal period of research are encouraged and supervised with clinically based research and audit topics, specific deadlines to complete the projects and present them at national and international meetings. There are also opportunities for trainees to devote a dedicated period of research towards obtaining a higher research degree (MDRes or PhD). There are several cardiovascular laboratories based at Imperial College, St. Thomas', St. George's and King's College Hospitals and their universities providing opportunities for first class cardiovascular research. At every meeting of Society for Cardiothoracic Surgery of GB & Ireland, trainees in the programme have had the highest numbers of abstracts and presentations in the UK. On average three trainees are awarded prizes for presentations and research at the annual SCTS meeting.
Quality Monitoring
The Training Programme Board and The London School of Surgery regularly visit and assess the hospitals with Core and Specialist Trainees. The trainees are interviewed and encouraged to comment anonymously on their training opportunities within the programme. The visit also looks at IT and library access and checks for EWDT compliance. A report is compiled and sent to the Chief Executive, detailing the findings and suggesting changes or giving recommendations. Funding from the Deanery is discretionary and may be withdrawn if standards are not met.
The NTNs are provided with education contracts at the start of their rotation and progress is monitored and logged using the ISCP web site. Trainees meet with their educational supervisors every two months and with their TPDs twice a year. There are four annual London Training Board meetings where representatives from the SAC, London School of Surgery and trainees meet. Standards are maintained through regular ARCP interviews but trainees are also encouraged to have more informal discussions with their supervisors to ensure that personal training and development is discussed. This allows for appropriate matching of trainers with trainees to be made so that optimum training experience is attained. If focused training is required, a meeting is convened between the trainee, TPD and trainer and a suitable plan is formulated.
Annual Survey.
Every year the trainees are sent a detailed survey in May, the results of which are presented and discussed at the June STC Meeting. This survey is very detailed and forms part of the decision making for the following year allocation of NTNs. The survey is considered in conjunction with the GMC and JCST surveys.
Specialty Training Board Information
The London Specialty School of Surgery holds Specialty Training Board meetings three times per year. The purpose of this group is to bring together specialty leads from postgraduate medical training programmes across the three London local education and training board areas to consider issues of mutual interest in relation to surgical training, and to foster and share good training practice on a pan London basis.
Vision
The vision for the London School of Surgery is to provide the highest quality of training using the vast wealth of clinical resources across London. London has a population of almost eight million. With its rich variety of cultures, nationalities and social backgrounds, the capital offers any trainee a full and rewarding experience in emergency medicine.
The London School of Surgery also seeks to provide:
World class education for world-class healthcare

Excellence of postgraduate training and education

Producing clinical leaders of tomorrow
Useful Information and Links
Curriculum - https://www.gmc-uk.org/education/standards-guidance-and-curricula/curricula/cardiothoracic-surgery-curriculum
ePortfolio - https://www.iscp.ac.uk/
Exams - https://www.jcie.org.uk/content/content.aspx?ID=1
JCST Guidelines and Checklists - https://www.jcst.org/quality-assurance/certification-guidelines-and-checklists/